You are about to become privy to the real status of my house this weekend. On Sunday we had a party for my 3 year old Lulu, it was a
Backyardigans
party. According to here it was a Uniqua party, she is her favorite charecter and she insisted for about a year that everyone call her Uniqua.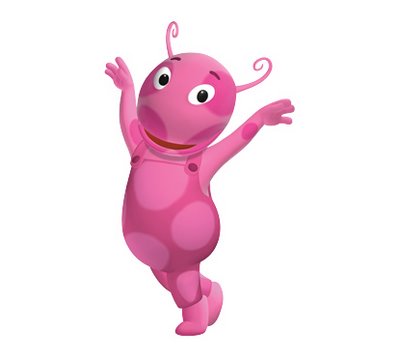 The party was a smashing success, we had a number 3 pinata, a Uniqua cake, food, family and friends.
Thank goodness for this Indian Summer so we could have the entire party outside, which helped a lot!
The ten dollar bill excited her the most!
The most important thing was that she loved it! She had so much fun playing with the kids and opening her gifts it was wonderful.
The guests all left around 8, and we came back upstairs to put the girls to bed...this is what I found
the party craft that never was
Holy snikeys, a tornado blew through here!
I felt like sharing these photos because this is the reality of it, sometimes always your house is a mess and chaotic, but it will get cleaned up eventually. So when you see me posting pictures of yummy food, just remember there is a kitchen full of dirty dishes you aren't seeing, when you see a cute picture of my ladies remember they looked like rag-a-muffins just hours earlier. No one is perfect, and I am not pretending to be, it's not my style, it just got real in here.
Question of the Day: How do you handle after-the-birthday-bash chaos?