I love couponing! Not the Extreme Couponing craziness, but you better believe that I love to save some serious cash. Christmas is a mere 45 days away, so let's talk about saving money on Christmas presents.
I am starting a series that will last for a few weeks about how to do

Christmas on the Cheap

, grab a button, and leave tips in the comments to possibly be used on future posts!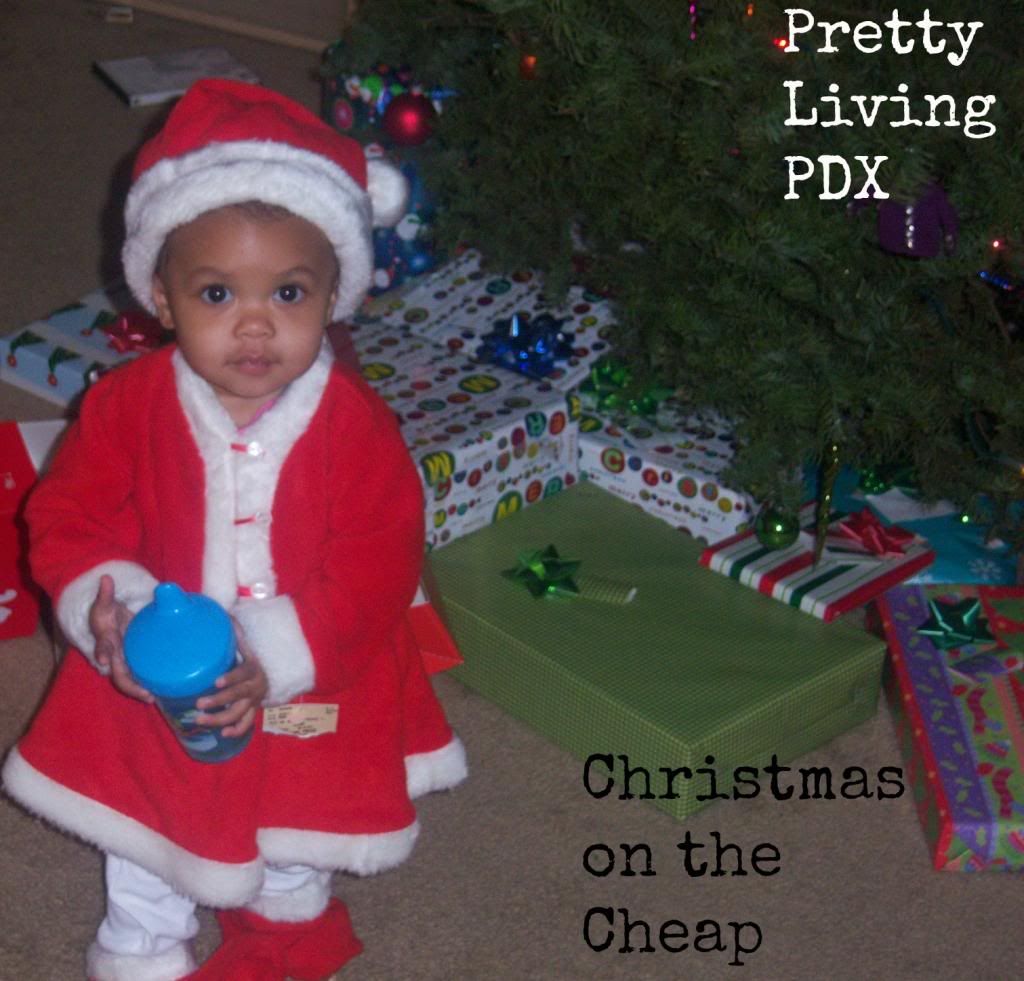 ONLINE SHOPPING
My first topic is online shopping, the best part, you can do it in your pajamas!
~So where do I shop online?
A few of my favorite places Amazon.com
, Toys R' Us and Target.com. I love Amazon because most things are free shipping with a $25 purchase, closer towards the end of November they have daily deals that are this years hot items at a fraction of the cost, and if you sign up for Amazon Prime
you can get free shipping on everything, yes you heard me ALL of it! I love Amazon Prime
because I am a full-time student so I use it ship all my textbooks, and you can share 1 membership for up to 4 family members which rocks.
Target is my favorite because they have Daily Deals which are popular items, with free shipping, that's right free! Also with the Red Card, which links to your bank account, you save 5% everyday on everything. I have the Red Card and I have saved almost $50 this year by using this card. Another reason I love Targets Red Card, you can get free shipping from Target.com with the Red Card. Needless to say, I go to Target way too often, but saving 5% helps...
Now that you know where to shop, how about the ways to do it on the cheap
Shop at Home offers cash back on online purchases, and you can earn $5 for referring friends! Shop at Home sends you a check when you hit $20, I have earned over $100 from them, and none of that is referral money! Right now you can earn 4% cash back on all your Target purchases!
Swagbucks is another awesome way to earn cash on Christmas shopping. You can earn Swagbucks for online shopping, searching, and other quick easy daily tasks. You then exchange your Swagbucks for gift cards and promo codes! Currently ALL the gift cards are just 500 Swagbucks for a $5 gift card, except Amazon.com is just 450 Swagbucks! They have sephora, Lands End, Starbucks, Walmart and Lowe's gift cards just to name a few. Seriously I just earned 11 Swagbucks by searching, it is super easy. Last year I was able to earn like $70 to Amazon through Swagbucks, go do it!
I am not suggesting that you give away the giveaway prizes you win (unless you really want to), but often times on blog giveaways there will be awesome promo codes for
blogger's
shops! Handmade gifts are super awesome, and can provide a unique Christmas present for those hard to buy for people on your list.
Some awesome shops to check out:
*They have super awesome products
*Always FREE shipping! You should head over like now!
*Use promo code "0512" for 10% off!
Reagan's Toy Chest
also offers FREE shipping, and most of their products are made in the US, how cool is that?!
My girls would go crazy for this ice cream set!
~How to save on shipping?
You can always order with someone and split the shipping charge, my mom and I do this all the time.
Search Swagbucks for promo codes
Join a site like Shop Runner, I got this last year and it has saved me so much money on shipping. Everything from Shop Runner sites (Toys r' us, American Eagle, Drugstore.com, just to name a couple), ships for free and it is 2-day shipping. 2-day shipping usually costs a lot extra, so I love this perk. I also love that Domino's is included, so I can save the $3 delivery fee, holla!
Amazon Prime
also offers free 2-day shipping on anything that Amazon sells! I use this year round, for textbooks, diapers and especially at Christmas time with all the free Swagbucks gift cards. You also get free instant videos, free Kindle books and much more with this membership.
Also with Amazon Student
you can get a FREE 6 month membership to Amazon prime, all you need is a college e-mail address! All these benefits for free? Don't mind if I do!
Question of the Day- How do you save on Christmas?
Join us next week for Black Friday Shopping Tips!