The premise is simple. We all have pet peeves and we tend to like to talk about them, a lot. This is your place to do that. We like to keep our blogs friendly and nice and happy, at least most of us do. But sometimes, you just need to let your hair down and gripe for a bit!
For now, this link up will be every Monday and each week will be a different topic (listed above). If you have a topic idea, email it to me! This link up will keep on going until it's become something we all gripe about!
Today's Topic: Social Media and Blogging
So what are the rules?
1. Use this pretty button in your post.
Why? Because I made it and it's the polite thing to do.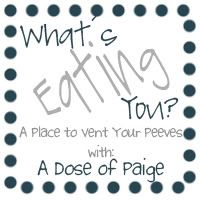 2. Follow Me and your Co-Host!
Want to cohost? Email me!
NO NAMECALLING!!! If I see it, I will remove it and you will get a nice email from me telling you that you should probably edit your post before someone gets their feelings hurt.
4. Go check out other posts and see what you have in common with people!
5. Tweet about it, share it on facebook, sing it from the rooftops!
Tweet
>>>>>>>>>>>>>>>>>>>>>>>>>>>>>>>>>>>>>>>>>>>>>>>>>>>>>>
So now that the rules have been cleared up, what's eating me?
Social media and blogging...I have a few pet peeves
1- Constantly changing your Facebook relationship status from "single" to "it's complicated" to "in a relationship" then back and forth, seriously if your relationship is that tumultuous you may want to consider other options.
2- Starting a fight on someone else's status, seriously what is this? If you want to have words with someone, take it to your own wall this is annoying.
3- Airing your dirty laundry- some things need to never be shared, please keep it to yourself.
4- In regards to blogging there are many things, like a LOT but one big one, never go onto someones blog and leave rude/racist/derogatory comments, it is really uncalled for!
That is about all I can come up with now, so what's eating you about social media and blogging? I know you have something you are dying to share, so write a post, post the button and link up.