Last week I
promised
a post about butts and here we go with it.
As you may know 2 weeks ago I traveled to Virginia to see my BFF graduate with her Master's degree (whoop, whoop!) and I sat in the very back row of the plane in the aisle seat.
On this flight either every single passenger had week bladders, or they put something in the drinks because from the time the seat belt sign went off people were lined up 15 deep to use the bathrooms at the back of the plane.
Now here's the problem, how do you walk past 15 people when you are walking back to your seat in a tiny airplane aisle? Do you
A- Walk with your butt to everyone in line?
OR
B- Walk with your front to everyone's butt in line?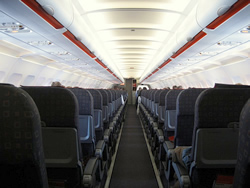 If you are sitting anywhere within those last 10 rows when this exchange is happening you are either going to get a bunch of crotches right at eye level or a bunch of butts, which is better?
Now you may be asking yourself
"Why didn't you just lean into the seat more and not into the aisle?"
Well the guy sitting next to me was probably about 21 and he literally looked as though I was a poisonous snake if my arm so much as brushed him on the flight, so leaning in a little closer to avoid butts and crotches was out of the question.
I can't even imagine being someone in the line who chose to turn and put their back to someone, only to have that person decided to walk past with their front, talk about awkward!
So to avoid any awkward front to butt or butt to face positions on airplanes avoid sitting in the back 10 rows of the plane and hopefully you sit next to someone who doesn't think you are going to bite them.
GOOD LUCK!
The next problem was one lady sitting in front of me who had a little too much to drink , is there no limits on these things? Apparently if you pay they will keep it comin', because she kept stumbling up to use the bathroom, but every time she forgot she left her headphones plugged in, so as she was trying to untangle herself she was elbowed me in head multiple times. Oh and did I mention she was hard of hearing, so my "excuse me ma'am" didn't go to far with her drunken -non hearing ears over the roar of the plane engine...
Needless to say the flight was interesting, moral of the story try not to rub your butt or crotch on people sitting in their seats after using the restroom, and remember ALWAYS unplug your headphones before standing up.
Question of the Day: What was your worst flight ever?
Now onto one of my best girls ever miss Brittany take it away!
My name is Brittany but you can call me Britt! I write over at
sunny tales & happy mail
where I sure do keep busy all while mostly being barefoot! I love cheese omelets,snail mail & paper products galore, sunshine, asparagus, coffee, makeup and taking lots of pictures to document my life. You'll often find me blogging about my faith journey with some outfits & vlogs thrown in the mix too!
Miss Britt is giving away a $10 GC to Forever 21 and Large Ad Space on her blog, so get to steppin!
a Rafflecopter giveaway